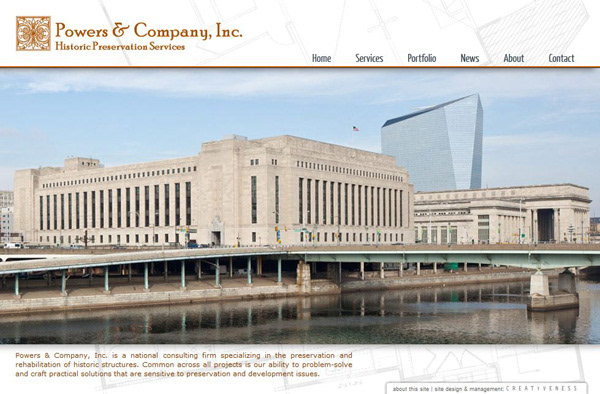 PowersPreservation.com opens with large images on a gradient transition slideshow to highlight the companies most recent and prominent projects. The main header and footer are textured with architectural sketches, and provide a dimensional appearance.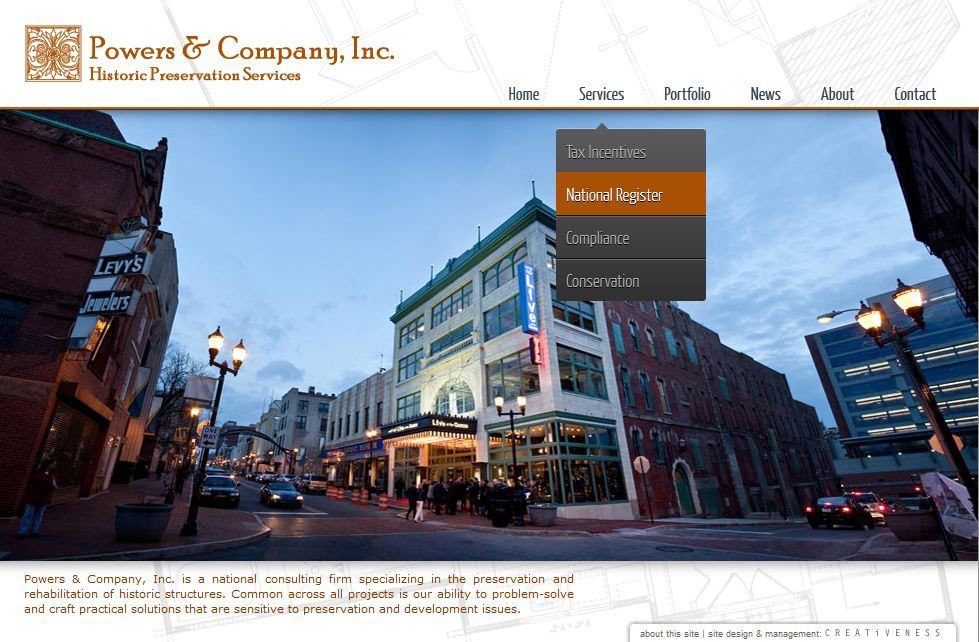 Home Page:


The dropdown menus for "Services" and "Portfolio," utilizes HTML5 and CSS3 elements to provide a smooth gradient transition as the menu materializes in a soft upward motion. When viewed in FireFox, Chrome, Safari, or mobile Safari, this menu item provides additional visual interest to the user, and adds an additional level of complexity to the site than most other commonly used menu treatments.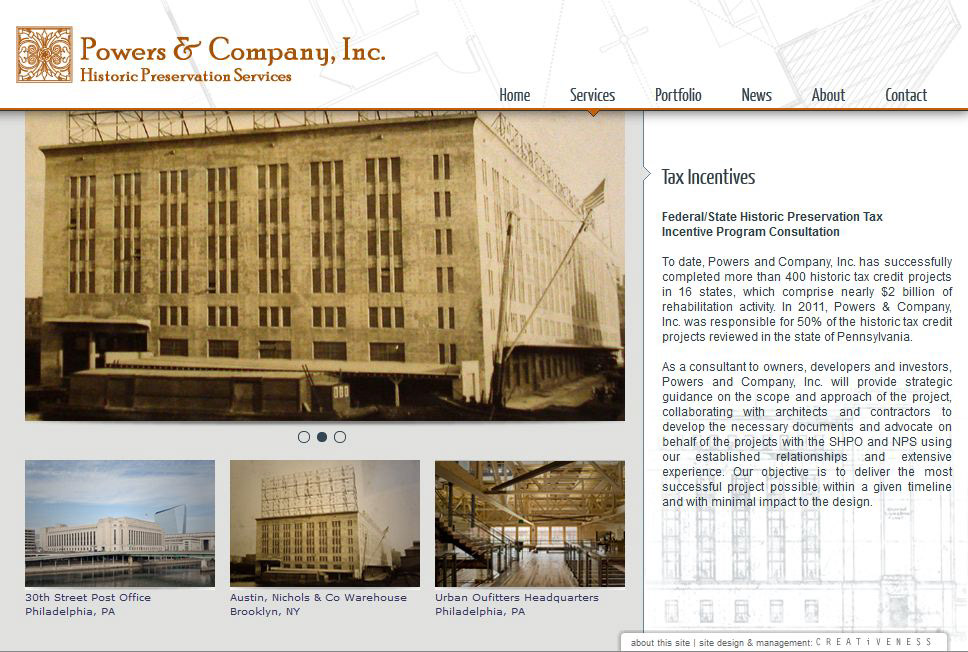 Service Landing Pages:


This section of PowersPreservation.com provides the user with a description of available services, and an image slideshow of related projects.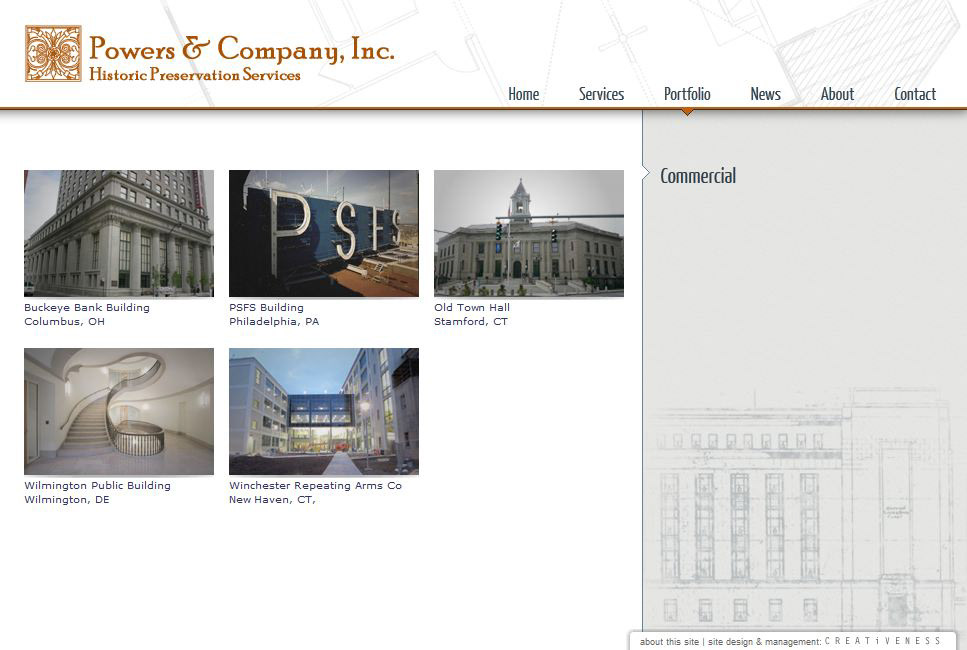 These sections were designed to provide the user with a description of the present Portfolio category, and a list of related projects. Each project has a space for it's name, and rollover thumbnail image associated with it.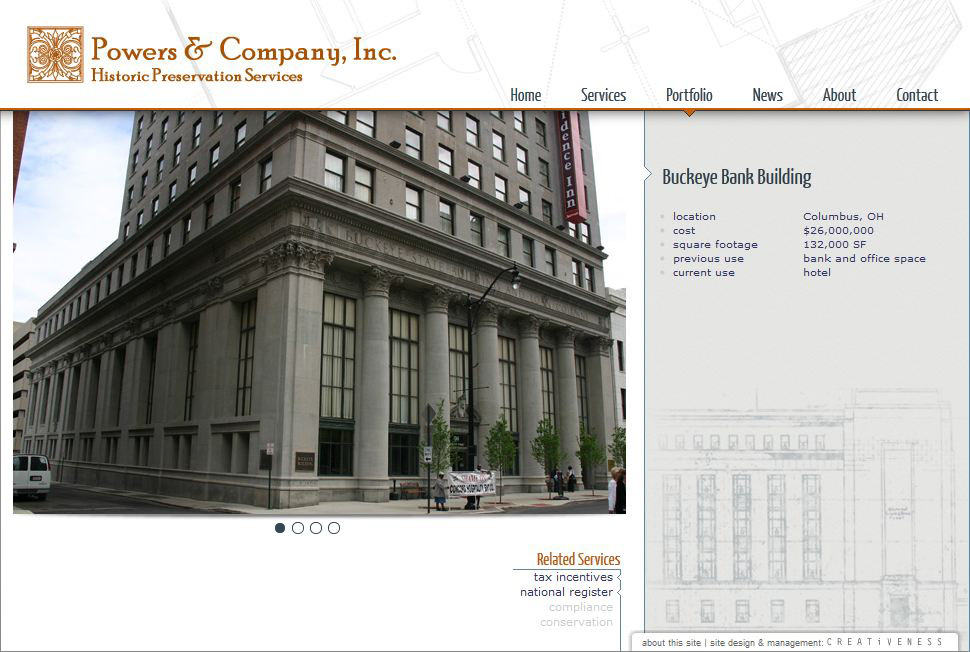 Individual Project Pages:
Each project page was designed to highlight the work provided by Powers & Company, Inc. through a large slideshow of images. There are also indications of the projects related service, and a description of certain key points, including; location, cost, square footage, previous use, and current use.
The News page was designed to give Powers & Company, Inc. the ability to update their own content and keep an active presence on a powerful social media outlet at the same time. Through the use of the Facebook Like Box, administrators of the company fan page can now post relevant news stories at their leisure, and keep the website current at the same time. This feature also provides a direct link from their website to their Facebook page, providing a symbiotic relationship between the two.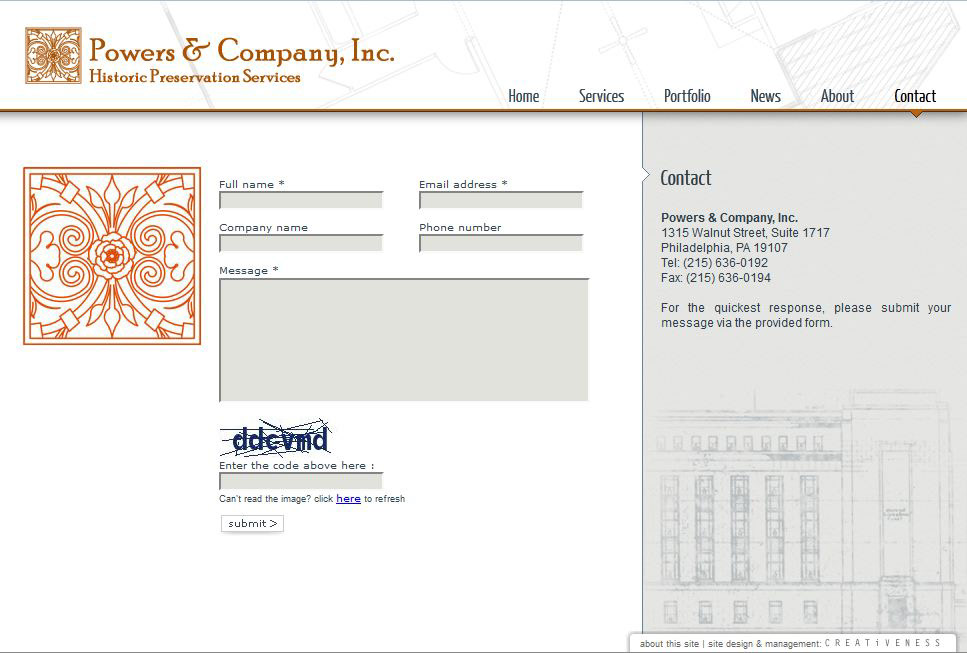 In an effort to keep spam messages to a minimum, CREATiVENESS developed a contact form which utilizes an image based captcha generator.  It tests for spider auto filling, and verifies entries to maintain accurate and legitimate messages.
CREATiVENESS designed and implemented a custom cover and profile image based on the themes used in the Powers & Company, Inc. website. This helps to keep a familial resemblance between the two, and allows for a seamless visual transition from their website to their social media presence.